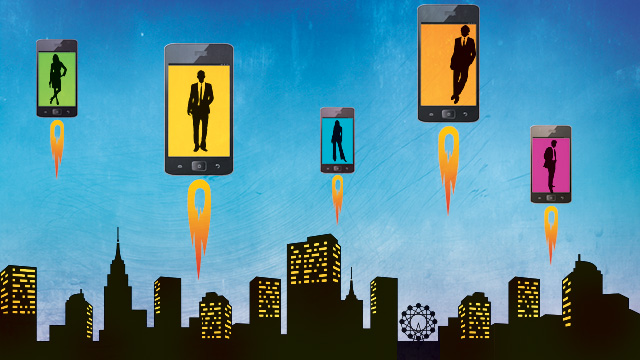 The emergence of enterprise mobile applications and the popularity of crowdsourcing innovations are rapidly changing the future of work. With one-third of American workers converting to freelance work and Venture Capital firms investing over $7 billion in collaborative economy companies, the norm of the 9 to 5 workday is quickly vanishing¹.
As mobile enterprise solutions emerge and mobile technology becomes more commonplace, it will be easier to deploy workers on short-term projects out of the office. Large-scale companies and startups alike can send employees, who may have otherwise never left the office, into the field by using the latest software to collect data and share findings with headquarters in real time.
Additionally, with 38% of Millennials freelancing and 82% of those Millennials saying they are optimistic about the future of freelancing², freelancing is becoming more accepted and no longer the last resort for those who cannot find full-time work.
Dori Albert, a crowdsourcing practice manager from Lionbridge Technologies Inc., states that Millennials are creating a "new nature of work," with increasing reliance on the gig economy and freelancing³. As mobile devices become more sophisticated and as more workers take on freelancing as a career choice, crowdsourcing and mobile enterprise solutions will become the new norm.
Combined with the growth in freelancers in the U.S., there are 2.5 billion workers worldwide that don't have desk jobs. According to Kevin Spain, General Partner at Emergence Capital, if mobile enterprise developers capitalize on this international coverage, they could be looking at a potential market size of over $100 billion. Introducing crowdsourcing or a mobile enterprise solution to your current workforce and capitalizing on this international presence, will supplement and complement work, reaching a broader audience capable of producing answers and performing tasks faster and more cost effectively than traditional workforce models.
Regardless of what you think about this new era of work, one thing is for sure, we have entered a new worker-friendly era where companies will be able to get work done, anytime, anywhere.  We are excited about this trend, as we strive to make work better and reinvent how work gets done.
---
¹Leung, Gee, and Zach Lesko. "The Collaborative Economy: Empowering Freelancers, Gig-workers and Sharers." AGC Partners. Jan 2015.
²Horowitz, Sara. "Why Millennials Understand the Future of Work Better than Anyone Else.". Fast Company. Apr 2015. http://www.fastcompany.com/3044478/the-future-of-work/why-millennials-understand-the-future-of-work-more-than-anyone-else
³Taylor, Kate. "Why Millennials are ending the 9 to 5." Forbes. Aug 2013. http://www.forbes.com/sites/katetaylor/2013/08/23/why-millennials-are-ending-the-9-to-5/
After a long hard winter, retailers are looking forward to spring. Warm weather, blossoming cherry trees, and blooming Easter sales. According to Prosper Insights & Analytics' National Retail Federation's Easter Spending Survey, average Easter spending will top $140.62, a bit ahead of last year's $137.46, with a total spend on Easter at an eye-popping $16.4 billion. That's a lot of Peeps. Not to mention decorations, gifts, flowers and Easter bonnets.
Why do retailers love Easter? It's not just the chocolate bunnies. The seasonal sale drives traffic into stores, particularly those that are tuned into springtime merchandising. In addition to Easter themed aisles, NRF President and CEO Matthew Shay says, "As one of the busiest times of year for several retail sectors and as shelves begin filling with both traditional spring and holiday merchandise, retailers are looking forward to welcoming shoppers with attractive promotions on home goods, garden equipment, and traditional Easter items."
While retailers should be excited about the Spring merchandise and promotions, don't rush to clear the shelves just yet! According to DataRank, an online consumer data analytics firm, there is a general dissatisfaction with Walmart's policy to remove their Valentine's Day candy to make way for Easter product promotions, with negative sentiment at an overwhelming 68.4 %.
Fortunately for brands and merchandisers, that's an easy problem to fix if you have the insight ahead of time. Instead of clearing out one promotion to make room for another, keep the most popular items on the shelves, mark them down with after season sales, and keep your customers happy with savings on items they love, which, according to DataRank, are candy, chocolate, and coupons!
How can retailers capitalize on the increase in spring spending while also keeping consumers happy with what's on the shelves? That's where Gigwalk comes in: our Gigwalkers provide accurate, timely information, so you can take action in real time. You can check on the products and places that matter most, see gaps and non-compliance, then close the loop with verifiable solutions. This Easter, Gigwalk can help brands and retailers optimize their Easter trade spend by ensuring execution in the retail aisle is absolutely flawless.